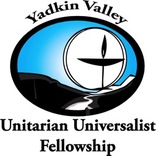 To read a factual description of the transgressions of the Crusades from observers, go to "Points of View" above.
Imagine
a church with room for different beliefs. . .
YOURS!Imagine
a church where your most difficult spiritual & moral questions are welcomed & encouraged & explored,
in an atmosphere, tolerance, love & respect.
Imagine
a church where every person is encouraged to develop & express their own personal theology,
based in the authority of reason& conscience & love, rather than in the doctrine of any single religious faith.
Imagine
a church where everyone is truly welcome, where human diversity is celebrated, where human dignity
is sacred, & where the interdependence of all life is respected.
We are a vibrant, diverse, & growing Fellowship, meeting 1st & 3rd Sundays each month. We meet at
Wilkes Family Central at 374 Lincoln Heights Road in Wilkesboro, NC.
For directions go to
maps.google.com/maps
. Come & grow with us as we create the
church we have always imagined.
Thought for Today
Join the Fellowship for a special outing
for watching the fall bird migration


Mid morning and later on Sunday, September 25
Mahogany Rock Overlook picnic table, at Mile post 235 on the Blue Ridge Parkway, , 5 miles south of US 21 and about 3 miles north of Doughton Park. (map)
Eric Harrold will lead our special outing.
Bring a folding chair or other comfortable chair as there is only the one table at Mahogany Rock Overlook. Eric will secure it early. We can use it for food/beverage placement. Eric will be there well before 10 a.m. , no later than 8:00 a.m. if others want to arrive early and enjoy songbirds which are active earlier in the day than the migrating raptors. Apply sunscreen and use a wide-brim hat. Getting sun burn while hawk watching from Mahogany Rock Overlook is likely without protection. It is also wise to bring a windbreaker or even a sweater as weather is variable and the wind can have a bite to it up there by late September.
Bring a picnic luncheon of your choice.
In case of questionable weather, our fall back social will be hosted by Eva and Clyde Ingle at their home at 9550 Sheets Gap Road, south on the Parkway some 20 miles, just beyond Mile Post 255. In the event of bad weather, directions will be posted via our Fellowship on line newsletter on the day of the outing and will be available by calling 336 984 5984.
Plan to join us for this exciting outing and bring a friend.


Join Us for our Next Service
10:30 a.m., October 2

Kenneth Foster will present a program, "The Other Commandments"

We meet at historic Lincoln Heights
​(map)
Are your young adults away from home, and/or on a schedule not conducive to worship? The Church of the Larger Fellowship, an online Unitarian Universalist congregation without walls, invites young adults to join the conversation and fun by connecting with the

Church of the Younger Fellowship on Facebook

. Take a look at this

one minute video

.

Directions to our Meetings?

Consider Our On Line Congregation

Go

here.

About the Church of the Larger Fellowship

The CLF is the Church of the Larger Fellowship (CLF), a Unitarian Universalist congretation

without walls. Our 3,500 members, with their children, live all

over the world. What brings us together is the desire to connect, seek, share

and grow. You are welcome here whether you are a CLF member or not. Take your time, get to know us.

We believe that life is a gift, and that the sacred is to be found in all aspects of life.

We believe that children are born holy and do not need someone else to save their souls.

We each are responsible to save our own souls, and because our souls are intertwined with one another, this involves caring for the common good.

We are people who believe that faith is not about doctrine or creed, and that the Spirit of Life cannot be adequately described by any name—though we use every name and no name.

We are atheists and Christians, Buddhists and Jews, agnostics and Hindus, who know that no metaphor or story of the holy is big enough to truly hold what is holy.

We are people who value diversity: of opinion, of culture, of language, of life experience, of spiritual practice.

We are people of every race, gender, sexual orientation,

ability, nationality, political stripe, economic status.

We draw meaning from science, from art, from poetry, from sacred texts, from the world around us, from one another, and from our own experiences in life. We are people who value action: acts for justice, acts for equality, acts of kindness, acts of self-care, acts of stewardship of the planet.

We are people who believe that the measure of a life well lived is the love that is carried in the hearts of those who knew us.Whatever route has brought you here, and whatever the path you walk with us, we are glad that you are here!
Consider the Fellowship's Coming Sunday Services and Events